With so many facial spa treatment options to choose from at King Spa, such as our Brightening Glow Facial, Clarifying Facial, and 24K Gold Facial, you can be sure we have one specifically suited to your skin type, needs, and desires. Our professional facials can address a multitude of skin concerns such as tired and stressed out skin, aging skin, impurities, dull skin, wrinkles, blemishes, dry or oily skin, and much more.
If you're looking for something a little more advanced, ask us about our Pro-Facial technology that combines four different technologies into one to rejuvenate your skin at the deepest level.
Our estheticians will consult with you to help you choose the right one, or you can try all the facial spa treatments we offer!
With the many massage therapy options offered at King Spa, ultimate relaxation is right at your fingertips (or, should we say ours). Our licensed massage therapists are ready to melt your stress away, reduce your pain, improve your overall health and well-being, and promote total relaxation with one of the luxurious therapeutic massage spa treatments we offer below. 
Sports Massage

Chair Massage
Acupressure is an ancient form of healing used in Traditional Chinese Medicine (TCM) that vitalizes the body's natural energy and enhances the flow of qi (chi), or life force, by applying slight pressure to specific acupoints on the body. Our licensed therapists use their fingers to reach deeply into these pressure points to relieve a range of health concerns such as pain, insomnia, stress, menstrual cramps, headaches, fatigue, and many more. Acupressure uses the same techniques as acupuncture, just without the use of needles.
A traditional Korean body scrub (called "seshin") is a skincare staple among Koreans and a unique experience that not only deeply cleanses and purifies the skin but also stimulates the lymphatic system to encourage the removal of toxins from the body. If you're looking for the ultimate anti-aging remedy, look no further. Try our Korean Body Scrub – a one of a kind spa treatment! Get ready to experience glowing, youthful skin as our technicians use traditional textured gloves to scrub away years of built-up dead skin cells and reveal radiating skin beneath that looks ten years younger.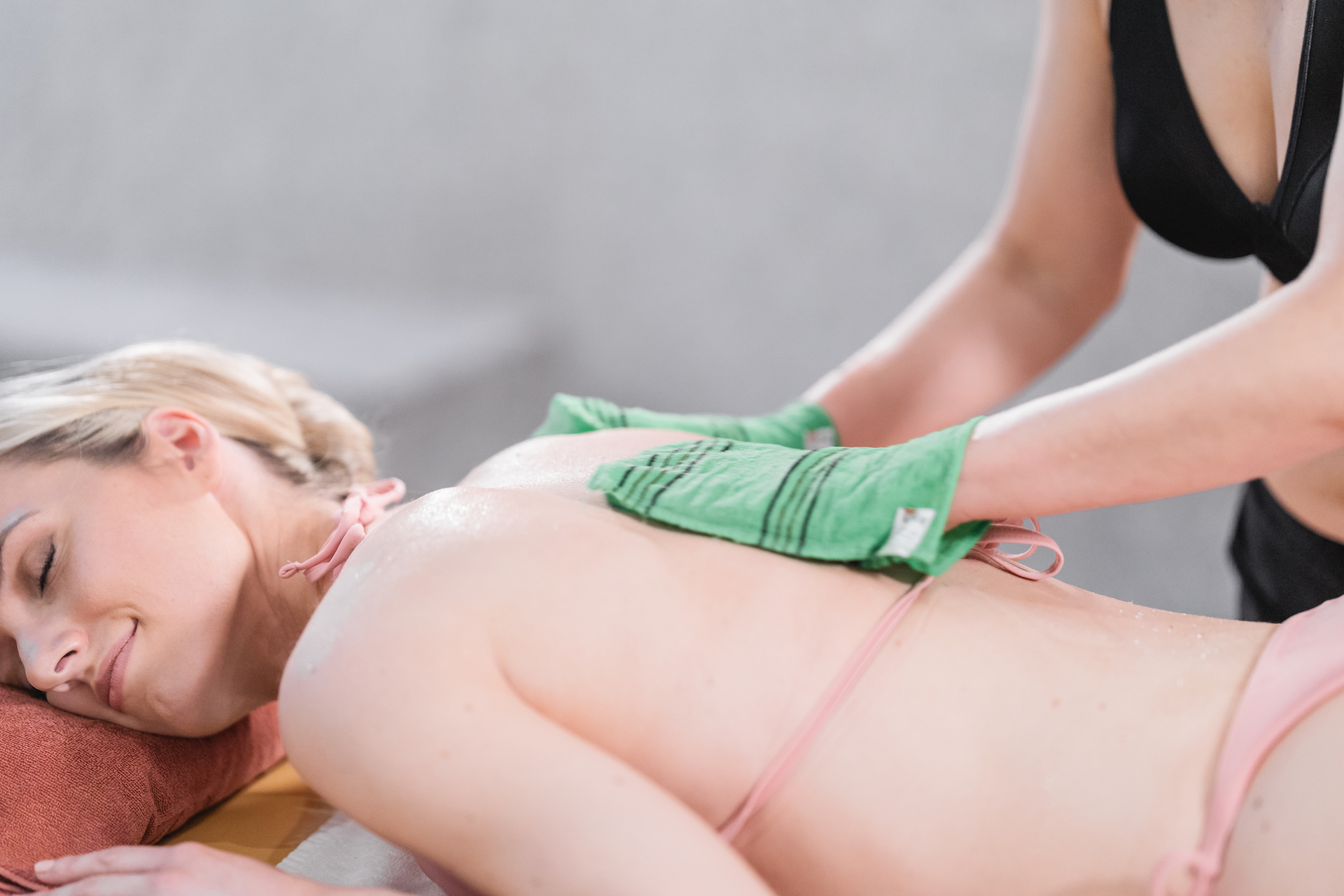 Choa-Yok
, as it's known in Korea, is a traditional seated vaginal steam (V-steam) used across many indigenous cultures worldwide. This holistic spa treatment promotes overall pelvic and reproductive health in women by boosting blood circulation and oxygen levels in this part of the body with medicinal steam infused with herbs like Mugwort, Wormwood, Rutin, and Dandelion. V-steam herbs are used to regulate menstrual cycles, reduce menstrual pain and discomfort, increase fertility, and tone and nourish the cervix, uterus, and vagina, leading to improved female health and vitality.
*Massages and Treatments are First Come, First Served.