Have you ever just wanted to bathe your skin in pure liquid gold? Well, a 24k gold facial is as close as it gets. While gold-infused skincare products are all the hype these days, using gold in skincare routines is not exactly a new concept. Cleopatra is said to be the first person to use gold facials to maintain her beauty and youthful complexion. And since she's essentially the original queen of all things beauty and skincare, it's no wonder people still use her method today.
Want to feel like Cleopatra for a day? We can make that happen. Come experience an hour of pure facial luxury, relaxation, and golden bliss as we deeply cleanse and moisturize your skin with our 24k gold facial mask, gold patches, and hydrating gold cream. Your skin will glow from the inside out and you'll experience firmer and healthier skin.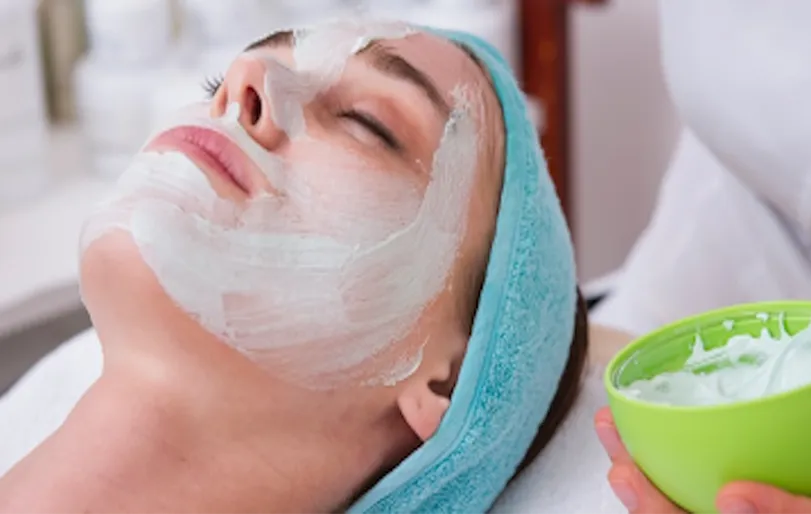 What is a 24k Gold Facial?
A 24k gold facial is exactly that – a facial that uses real 24k gold to cleanse the face and deliver minerals from the gold deep into the layers of your skin for pure rejuvenation.
When you receive a 24k gold facial at King Spa, you'll experience a luxurious facial that uses real gold in its purest form in a facial mask, cream, and patches that are placed on your face to deeply penetrate the skin and deliver the healing and rejuvenating benefits of pure gold at the cellular level.
The goal of a 24k gold facial: to improve the overall appearance of your facial skin by reducing inflammation, puffiness, blemishes, wrinkles, redness, acne, dullness, and more.
Is 24k gold good for your skin?
The new gold standard for skincare? You guessed it – gold. 24k gold is gold in its purest form, and its natural properties are great for the skin, especially if you struggle with skin issues such as inflammation, aging skin, and acne. A 24k gold facial combats these issues and more, making it a popular choice in high-end skincare today. But you don't have to be a celebrity or own a yacht to get a 24k gold facial. It's available in many spas and skincare centers today!
Come into King Spa today and book your facial with one of our in-house skin experts to see why all that glitters is gold!
What does a 24k Gold Facial do?
Good question. Why would anyone want to smear gold all over their face – besides the obvious inherent desire to feel like a god/goddess (who wouldn't want that)? Well, it turns out there are many reasons why someone would add gold to their skincare routine. It's been observed that 24k gold has numerous benefits for the skin, hence why it's used in many high-end skincare product lines today.
So, what exactly are the benefits of a 24k gold facial treatment? Check it out:
Your skin will glow from the inside out
The ions in gold help to stimulate blood circulation, encouraging blood to flow closer to the skin's surface and giving your face a beautiful, youthful glow. Also, because gold naturally reflects light, this adds a subtle shimmering effect. Say goodbye to dull-looking skin with a 24k gold mask!
Your fine lines and wrinkles will fade
24k gold facials are touted for their natural anti-aging properties as they help to lift and firm the skin. The antioxidant characteristics of gold also aid in preventing the effects of aging by blocking free-radical damage caused by environmental stressors, such as smoke, pollution, and a poor diet.
Your face will feel firmer
Gold helps to prevent the breakdown of collagen while simultaneously increasing collagen production in the skin, which is vital to maintaining skin elasticity – a necessity for having firm skin. A 24k gold facial prevents the skin from sagging (which happens naturally with aging), making it look firmer and more youthful.
Your blemishes and acne will disappear
Pure 24k gold has natural antibacterial properties, making it a great solution to remove toxins and combat the microbes that cause acne, pimples, and breakouts! It also helps to prevent future breakouts, keeping your skin clean and clear in the long run.
Your inflammation will fade
Another amazing benefit of 24k gold is its natural anti-inflammatory properties. As gold increases blood flow and therefore the amount of oxygen flowing through the skin's cells, it helps to repair and rejuvenate damaged cells. This makes a 24k gold facial great for calming your red, irritated, and dry skin.
Is Gold Safe for Your Skin?
While gold is generally harmless for most people, some individuals may have sensitivities or even allergies to this precious metal. If you have sensitive skin or any known skin allergies, you may want to consult with your primary care physician or dermatologist before you receive a 24k gold facial, just to be on the safe side.
How Can I Book a 24k Gold Facial Treatment at King Spa?
All facials at King Spa are on a first-come, first-served basis, meaning they cannot be booked in advance. But don't worry – we offer facial services throughout our opening hours and it's simple to book your 24k gold facial with our skincare experts at our Le Sens Esthetics facial kiosk on the second floor. You can pre-purchase your Day Pass online if you'd like, or feel free to just stop by. Walk-ins are always accepted!
Do you have more questions about our 24k gold facial treatment? Feel free to get in touch with our esthetic director, Tina, at [email protected]. We're happy to answer any questions or concerns you might have.
We look forward to seeing you glowing at King Spa soon!